Partnerships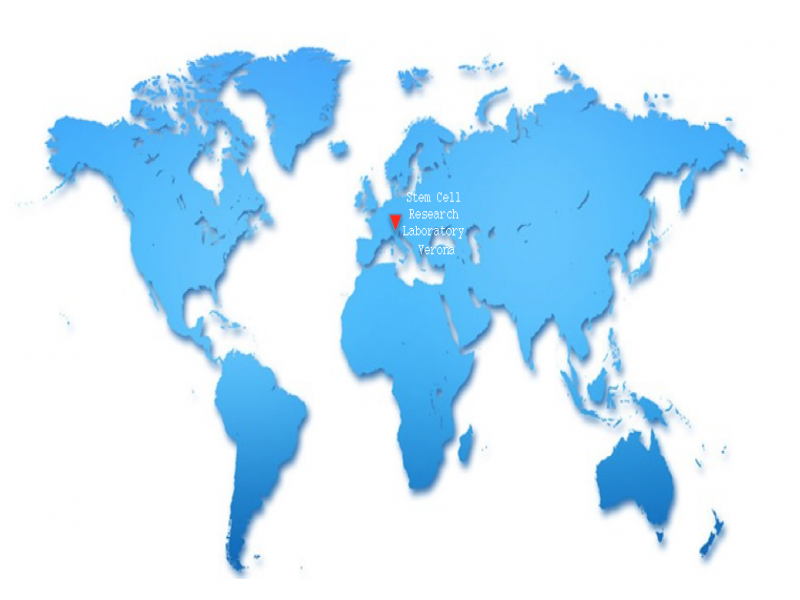 Collaborating Units of the University of Verona and Azienda Ospedaliera Universitaria Integrata Verona:
Unit of Hematology - Bone Marrow Transplant Unit, OP (Dr. Cristina Tecchio, Dr. Fabio Benedetti)
Unit of Pediatric Oncohematology, OP (Dr. Simone Cesaro)
Cell Factory, Department of Transfusion Medicine, OP-OCM (Dr. Aurora Vassanelli, Dr. Giorgio Gandini)
University Laboratory for Medical Research (L.U.R.M.), OP (Dr. Maria Teresa Scupoli)
Unit of Pathological Anatomy, OP (Prof. Aldo Scarpa, Dr. Alice Parisi, Dr. Giorgio Malpeli)

Section of Anatomy, University of Verona (Prof. Andrea Sbarbati, Dr. Mirco Galiè)
Section of Immunology, OP (Dr. Stefano Ugel, Prof. Vincenzo Bronte)
Section of General Pathology, University of Verona (Prof. Gabriela Costantin, Dr. Claudio Sorio, Prof. Marco Antonio Cassatella)
Department of Biotechnologies (Prof. Massimo Delledonne)
Unit of Maxillo-Facial Surgery, OP (Prof. Pierfrancesco Nocini, Prof. Daniele De Santis)
Unit of Hand Surgery, OP (Dr. Roberto Adani, Dr. Massimo Corain)
Section of Pharmacology, University of Verona (Prof. Guido Fumagalli, Dr. Ilaria Decimo)
Unit of Neurosurgery, OCM (Dr. Francesco Sala)
Unit of Neurology, OP (Prof. Bruno Bonetti)
Unit of Cardiac Surgery, OCM (Prof. Giuseppe Faggian, Prof. Alessandro Mazzucco)
Clinical Chemistry Laboratory Borgo Trento, AOUI Verona (Dr. Anna Tamanini)
Collaborating Italian Institutes:
Advanced Cell Therapy Laboratory (LTCA), Functional Department of Cell Therapies and Hematology, San Bortolo Hospital of Vicenza (Dr. Giuseppe Astori, Dr. Marco Ruggeri)
Veneto Eye Bank Foundation  – ONLUS, Zelarino (VE) (Dr. Stefano Ferrari, Dr. Diego Ponzin)
Section of Immunology, Excellence Center DENOTHE, University of Florence (Prof. Francesco Annunziato, Prof. Enrico Maggi)
Sezione di Ortopedia e Traumatologia, Ospedale di Pietra Ligure (Dr. Giorgio Burastero)
Dip. di Scienze della Vita, Università degli Studi di Trieste (Prof. Marina Sciancalepore)
Collaborating European Institutes:
University Hospital Basel, Switzerland (Prof. Ivan Martin)
Dept. of Medicine, Hematology Center, Karolinska University Hospital, Stockholm, Sweden (Prof. Katarina Le Blanc)
Établissement Français du Sang Centre Atlantique (EFS) – Toulouse, France (Dr. Luc Sensebé)
INSERM U957 - LPRO, Nantes, France (Dr. Pierre Layrolle)
Laboratory of Angiogenesis & Neurovascular link, Vesalius Research Center (VRC), Leuven, Belgium (Prof. Peter Carmeliet, Dr. Francesco Bifari)
Dip. Neurologia, Hospital Nacional de Parapléjicos, University of Toledo, Spain (Dr. Javier Rodriguez)
Surgery Unit, UCL Institute of Child Health and Great Ormond Street Hospital, London, U.K. (Dr. Paolo De Coppi)
Stamcellinstituut, Leuven, Belgium (Prof. Catherine Verfaillie)
Collaborating non-European Institutes:
University of Winsconsin, Madison, WI, USA (Prof. Jacques Galipeau)
Department of Molecular Therapeutics, The Scripps Research Institute, Jupiter, Florida, USA (Prof. Donald Phinney)
Shanghai Institutes for Biological Sciences, Shangai, China (Prof. Yufang Shi)
Weizmann Institute of Science, Rehovot, Israel (Prof. Michal Schwartz)
These collaborations deal with different types of stem cells (hematopoietic, mesenchymal, neural, cardiac, lung, epithelial, leukemia and cancer stem cells). Active partnerships are in red, inactive partnerships are in black.